Hinkley C deal-legality probed by European Commission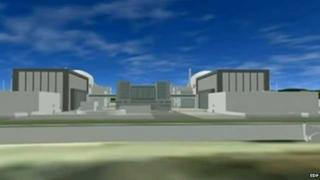 The deal to build a new nuclear power station in Somerset is being investigated by the European Commission, the BBC understands.
The inquiry is under way to determine whether EU competition laws have been breached.
EDF - the company behind Hinkley C - told the BBC that the process was continuing as expected.
South West MEP Sir Graham Watson, said he believed the inquiry may delay the project but will not derail it.
"EDF, just like the government, knows what the commission's rules are and I think every chance is this will qualify under the state aid rules," said Sir Graham.
"I think it's unlikely we would have got this far without a really thorough investigation."
'Typical Brussels'
Last month, Prime Minister David Cameron visited Somerset to announce a deal had been struck with EDF over the government-guaranteed price for new nuclear energy.
It is that deal which is being investigated.
Ian Liddell-Grainger, Conservative MP for Bridgwater and West Somerset, has criticised the move.
"Nobody in Europe has got the guts - which is typical of Brussels - to stand up and say this should go ahead," said Mr Liddell-Grainger.
"This is the biggest infrastructure project in Europe - it's one that's bringing in Europeans from all over so what do they do... they don't quite like it or they're not quite sure."
EDF still has to sign deals with the Chinese who are the main potential investors for Hinkley C and Clinton Rogers said he was told those are "still months away".