Bath's Manvers Street police station 'likely to shut'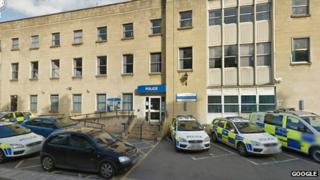 Bath's police station in Manvers Street could close as Avon and Somerset Constabulary looks to find more efficient ways of working.
Chief Constable Nick Gargan said very few members of the public used police stations compared to the number of phone calls the constabulary received.
He said he would prefer to keep officers on the beat rather spend money retaining expensive buildings.
But he stressed response levels would not be affected by any potential move.
'Shared centre'
"It's quite possible in the fullness of time we'll close Manvers Street and have a smaller centre people can walk into in the middle of Bath.
"[We'd have] a response located somewhere in the city centre and perhaps some staff working at Keynsham.
"People in the community tell us they really like seeing police out and about and that there is somewhere you can go to report an incident.
"There's an ideal place [the council one-stop shop] opposite the police station where we could co-locate with the local authority and share the costs," Mr Gargan added.
Henry Brown, from the Federation of Bath Residents' Associations, said he accepted the police "had to do more with less".
"The Manvers Street station is anything but user-friendly - the main entrance is very difficult to get into for people with disabilities.
"It would be much better if people could access the police in a more modern place like the council's one-stop shop across the road," he added