Somerset M5 deaths crash: Drivers hit 'wall of blackness'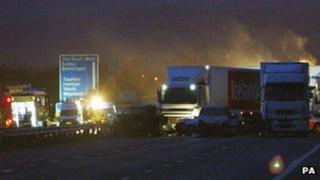 Drivers hit a "wall of blackness" that smelled like firework smoke moments before a fatal motorway pile-up, a court has heard.
Seven people died and 51 were injured when 34 cars collided as a section of the M5 in Somerset was rapidly "engulfed in thick smog".
Bristol Crown Court heard the smog built up during and after a firework display and drifted across the road.
Geoffrey Counsell, 51, denies failing to ensure public safety for the show.
Mr Counsell, from Ashill in Somerset, had organised the £3,000 display at Taunton Rugby Club on 4 November 2011.
Collisions began just six minutes after it finished.
Lorry drivers Terry Brice, from Patchway, South Gloucestershire, and Kye Thomas, from Gunnislake, Cornwall, died in the crash.
Father and daughter Michael and Maggie Barton, from Windsor, Berkshire, grandparents Anthony and Pamela Adams, from Newport, south Wales, and battle re-enactor Malcolm Beacham, from Woolavington, near Bridgwater, Somerset, also died.
Drivers on the motorway before the pile-up told a jury how conditions on the road were good until they suddenly hit a "black wall of smoke" which "enveloped" their cars.
Stephen Crowle had been driving from Plymouth in Devon to Gloucestershire with his wife Susan.
'Brake quite hard'
"We suddenly hit what I consider almost like a black wall," Mr Crowle said.
"Visibility dropped dramatically, certainly from almost 200ft, 200m or so, to virtually nothing.
"Thankfully there was very little traffic around. Instinctively, when you are hit with no visibility you brake.
"It was smoke. It was very dark, it was black. After six or seven seconds the road just cleared and that was it really."
Mrs Crowle, a front-seat passenger, told the jury: "As we passed the junction we suddenly - it was very, very suddenly - came into a wall of blackness. It was very dense, we couldn't see anything. It was obviously very frightening."
She said: "As we carried on out of the blackness, I put my window down. It was like the after-smell of fireworks and smoke."
Philip Smith had been driving from Plymouth to Windsor.
"The weather was clear. Suddenly I drove into what I would describe as a mix of smoke and fog that was black in colour. It came out of nowhere," he told the jury.
"It was so thick. It was like something out of a movie. It was like you were in a bright room and someone turned the lights off. I have never experienced anything like it. It happened so quickly it caused me to brake quite hard.
The trial continues.