Portishead gun centre arson 'act of domestic extremism'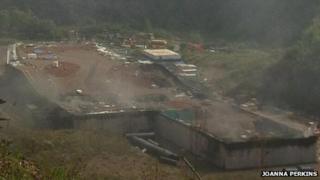 An arson attack on a partially-constructed police firearms centre was an act of domestic extremism, Avon and Somerset Police has said.
Chief Constable Nick Gargan said a significant investigation into the blaze at Black Rock Quarry, Portishead, was continuing.
Mr Gargan said there had been one arrest but "that didn't lead to anything particularly productive".
The fire, which began on 27 August, was fully extinguished on 9 September.
At the time, an anarchist group claimed responsibility for the blaze at the £16m centre.
Mr Gargan said: "We categorise types of crime as terrorism and domestic extremism.
"This I regard as an act of domestic extremism.
"It is difficult, the scene of the crime was largely destroyed by fire, but we've got very able people, we've got support from outside the force on the investigation."
The training centre was to be used by the Avon and Somerset, Gloucestershire and Wiltshire forces.
The facility, which would have contained two indoor firing ranges as well as classrooms, had been due to open in January.
It is part of a private finance initiative deal, worth more than £100m, which will also involve police stations and other operational facilities being built in Patchway, Keynsham and Bridgwater.