Henry Allingham sculpture installed at Fleet Air Arm Museum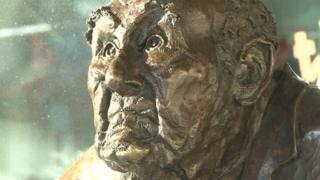 A bronze sculpture of one of Britain's last World War One veterans has been installed at Fleet Air Arm Museum in Yeovilton, Somerset.
Henry Allingham, who died aged 113 in July 2009, served with the Royal Naval Air Service, later transferring to the Royal Air Force when it was created.
In 2006 the museum reunited him with the planes he had worked on 90 years earlier.
The bust was unveiled by Vice Admiral Sir Adrian Johns.
Full military honours
Graham Mottram, Director of the Fleet Air Arm Museum, said: "When he (Sir Adrian Johns) was still serving in the Navy as Rear Admiral Fleet Air Arm and later as Second Sea Lord, he was for a number of years Henry's official minder and had a great personal affection for Henry.
"We thought it extremely appropriate that the person who should unveil this permanent memorial to Henry should be someone who spent a lot of time with him."
Mr Allingham, who was born on 6 June 1896, joined the Royal Navy Air Service in September 1915 before transferring to the RAF in April 1918.
For most of his life he buried his memories of the war, avoiding reunions and refusing to tell his family about his experiences.
"By the time he got to about 103 and people started to realise what he had been through and what he represented, he then embraced that responsibility," said Mr Mottram.
"Here was a man who was at sea repairing and maintaining sea planes on a small warship, during the Battle of Jutland - the biggest naval battle there was in World War 1, the second Trafalgar some people describe it as."
Hundreds lined the streets of Brighton to watch his funeral on 30 July 2009 at which guests included the Duchess of Gloucester and senior figures from the Royal Navy and the Air Force.
Mr Allingham, who died at a nursing home in Brighton, was buried with full military honours.