Somerset M5 deaths crash: Firework smoke 'was dense'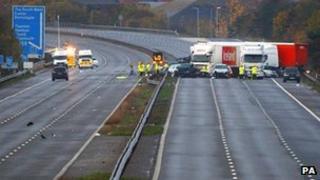 Dense smoke was generated by a fireworks display near the M5 on the night seven people died in a huge pile-up, a court has heard.
Geoffrey Counsell, 51, from Ashill in Somerset, denies a charge of failing to ensure public safety for the Taunton Rugby Club display on 4 November 2011.
Seven people were killed and 51 were injured in the multi-vehicle crash.
Witnesses told Bristol Crown Court that smoke from the fireworks seriously reduced visibility on the night.
Timothy Jenkins, who went to the display with his wife and daughter, said the fireworks generated a lot of smoke.
"It seemed to be dense around us, it seemed to drift away from us and towards the motorway. The smoke took quite a while to disperse," he told the jury.
Mr Jenkins told the court that after the display ended he and his family went to sit in the stand at Taunton Rugby Club where the display was held.
'Mist closing in'
Within minutes he saw an orange glow in the direction of the motorway, then heard an explosion.
Mr Jenkins said that before the display there was mist closing in but the visibility was not bad.
"You could still see across the rugby pitch," he said.
Julian Graham, who went to the display with his wife and four children, said that when he arrived for the start, visibility across the pitch was quite good.
Mr Graham, who coached the under-15 rugby team, said the club was used to a sort of "micro-climate" - a thin veneer of mist which would sometimes linger three or four feet above the training ground.
But on the night of the display, he told the jury, the visibility was impaired by smoke from the fireworks.
"You could smell the smoke and you could visibly see it growing in front of you," he said.
"Initially it did not seem to disperse. It just seemed to grow and grow.
"After that it clearly started to move towards the motorway."
The trial continues.