Bath residents may have power to enforce alcohol ban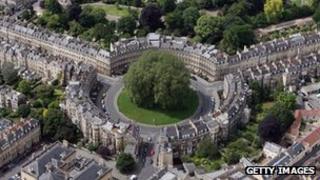 People living in the Bath area could be given the chance to ban clubs and bars from setting up in their streets.
The council said it was part of a drive against alcohol abuse, which costs city health services up to £10m per year.
It said it was also considering targeted education programmes for primary school children about the dangers of underage drinking.
Bath resident Ian Perkins said the council needed to "do better" than "a fairly unstructured list of ideas".
'Dry streets'
Ian Perkins, who chairs the Abbey Resident's Association, said: "I'm a little concerned that the council is yet again going for form over substance.
"We're having an exercise now which seems to be more about the appearance of action rather than action.
"Nothing that the council is now contemplating hasn't been thoroughly researched and suggested by various agencies."
Councillor Vic Pritchard, from Bath and North East Somerset Council (Banes), said: "These are quite innovative ideas.
"A 'dry street' - a street without premises selling alcohol - could be dedicated to coffee shops or something like that and a lot of these are quite fashionable now.
"There's no set interpretation, these are just ideas that the council might consider."
When asked how much the proposals would cost he said the "relevant cabinet members would assess it" and added that he saw it as "an opportunity" for the council to be "leaders in the fight against alcohol abuse".
Local authorities were given new powers by the government last year as part of its alcohol strategy.
Banes said it wanted to look at what was being done to "reduce the impact of the misuse of alcohol" in health, children, community and licensing.