Emma Welch, 12, completes Everest indoor climbing bid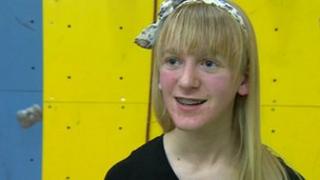 A 12-year-old girl has climbed the equivalent height of Mount Everest on an indoor climbing wall to raise money for brain tumour research.
Emma Welch from Chilcompton, Somerset, started on 18 September and has had to climb the wall 1,209 times.
Emma, who was diagnosed last year with scoliosis, an abnormal curving of the spine, said the challenge had "been much harder than I thought".
She was joined at the summit by Paul Keleher, who climbed Everest in 2012.
Mr Keleher placed the London 2012 Olympic flag on the summit of the world's highest mountain.
For the final few ascents Emma wore all the kit Mr Keleher wore when he climbed Everest.
Speaking after she had completed the climb Mr Keleher said: "It's an amazing feat because Everest isn't vertical and what she's done is climb that distance vertically - it's just inspiring."
Ms Welch said she was inspired to take on the challenge by her Baptist Church Minister Andrew Stammers who, despite being diagnosed with a brain tumour, has completed a 100-mile canal walk to raise funds and awareness of the disease.
"I thought it was fantastic what Andrew did and it made me think about what I could do," she said.
"I have enjoyed climbing ever since my dad took me to a climbing wall for the first time when I was eight.
"I decided that this was my chance to prove that just because I have a curved spine it does not mean I can't change things.
"If this helps to find a cure for brain cancer, then it's definitely worth it."
Emma has climbed the wall at Writhlington Sports Centre twice a week since the challenge began.
"Emma is a great source of encouragement to me - she is climbing her mountain, which is helping me to climb mine," said Mr Stammers.
Emma's father Tony said her parents were "so proud" of her.
He added: "She has given everything to this challenge."
Brain Tumour Research's chief executive, Sue Farrington Smith, said: "In order to fund a year's research at just one Centre of Excellence we need to raise £1m so we rely greatly on our amazing fundraisers and supporters like Emma and Andrew."
Brain Tumour Research was started in April 2009 to raise the awareness of and funding for scientific research into brain tumours and improve outcomes for brain tumour patients.
Guinness World Records confirmed that Emma would become the youngest person to climb the height of Everest on an indoor climbing wall.
Speaking after she finished the climb Emma said: "I feel a bit quite overwhelmed really."