Postman delivers escaped chicken to Somerset woman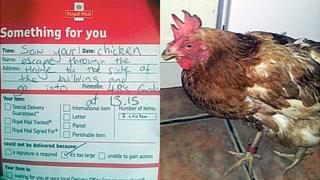 A postman has notified a woman of an escaped hen's return via a delivery card for "1 chicken".
Leanne Preston, from Congresbury, north Somerset, found the Royal Mail card from her postman when she returned home on Saturday.
The note said the hen, called Windmill, was spotted escaping through a hedge and had been returned to its coop.
The postman had added that the delivery could not be posted because "it's too large".
Ms Preston said it was not her usual postman who had returned Windmill, but whoever it was, "he must have done a bit of comedy chasing".
The chicken is one of four ex-commercial caged hens Ms Preston has rehomed through the British Hen Welfare Trust charity.
She said Windmill was "a bit of a Houdini" who often had to be returned by her neighbours after escaping through a hole in the hedge which has now "been plugged".
She added that she had not been able to "thank the lovely postie who brought our wandering chicken back at the weekend".
"My normal postman didn't know anything about it," she said.
Royal Mail was unavailable for comment but tweeted it was trying to trace the "postie who left [the] card".