Somerset M5 crash: Firework organiser 'not a risk taker'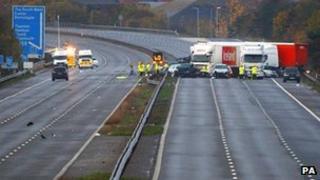 The organiser of a firework display near the M5 on the night seven people died in a massive pile-up is not a risk taker, a court has heard.
Geoffrey Counsell, 51, from Ashill in Somerset, denies a charge of failing to ensure public safety for the Taunton Rugby Club display on 4 November 2011.
Seven people were killed and 51 were injured in the multi-vehicle crash.
Witnesses in the trial will testify to driving through fog, not smoke or smog, Bristol Crown Court was told.
'Not add up'
The prosecution ended its opening statement earlier, telling the jury "some or all of the consequences" might have been avoided if Mr Counsell had properly addressed his health and safety duties.
Peter Blair QC said public safety had been put at risk as Mr Counsell ran the display entirely on his own.
But Mr Counsell's defence told the court the prosecution case "just did not add up".
Adrian Darbishire QC, said witnesses would be called who will say they did not see any smoke from the display drifting towards the motorway.
"We will also hear from drivers on the M5 that night who will say what they drove through was not smoke, not smog, but fog," he added.
Mr Counsell has worked for 25 years as an HGV driver and was not a risk taker, the jury heard.
Different risk assessments
The firework display happened some 200m (650ft) from the motorway.
Lorry drivers Terry Brice, from Patchway, South Gloucestershire, and Kye Thomas, from Gunnislake, Cornwall, died in the crash.
Father and daughter Michael and Maggie Barton, from Windsor, Berkshire, grandparents Anthony and Pamela Adams, from Newport, south Wales, and battle re-enactor Malcolm Beacham, from Woolavington, near Bridgwater, Somerset, also died.
Prosecutor Mr Blair told the jury that a police search of Mr Counsell's home, two days after the display, found two different copies of risk assessments.
One of them made reference to wind direction and Mr Blair asked the jury to consider whether they had been prepared after the event.
The court was told the display had cost £3,000 and was organised by Firestorm Pyrotechnics, for which Mr Counsell was sole trader.
It also heard how Mr Counsell had attended training courses run by the British Pyrotechnists Association and held certificates of competence.
Mr Counsell had given a police statement saying he had never had problems with smoke when running a display and there was nothing unusual about the night of 4 November, the jury heard.
Mr Blair said that was simply wrong, adding: "He should have abandoned the display.
"He was either oblivious to or regardless of the unfolding danger to road users as a result of the reduced visibility he was generating."
The case continues.