Minehead lifeboat's launch tractor stuck in mud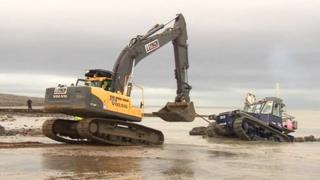 One of Minehead's lifeboats is out of action at low tide after the tractor and carriage used to launch it became stuck in mud in a training exercise.
The carriage got bogged down in an area of clay and the tractor pulling it also got stuck, the RNLI confirmed.
At low tide a second tractor recovered the launch carriage, but then got stuck trying to bring the first tractor out.
A spokesman for the RNLI said the Atlantic inshore lifeboat should be "back in action by the end of the day".
"The RNLI is now working hard to recover both tractors while a relief tractor and carriage is on its way to Minehead," said Nigel Jones, RNLI Divisional Operations Manager.
"In the meantime, the station's D-class lifeboat remains on full service and is ready to launch while their B-class Atlantic lifeboat is currently on a mooring in the local harbour and available in all but the lowest state of tides."
Minehead lifeboats were launched 30 times during 2012.