Bath's advice service cuts 'lack of strategy' challenged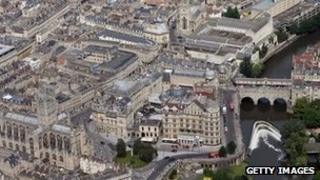 A council that wants to halve funding for its universal advice services in Bath will publish its strategy.
Bath and North East Somerset Council wants to slash funding from £407,000 to £182,000 - a move opposition councillors said "defies belief".
Following a petition and debate, the Liberal Democrat-led authority has now pledged to make clear its planning.
Conservative councillor Vic Pritchard said, to date, the council's strategy had been "clearly and sorely lacking".
The city's advice services are currently operated by the Citizens Advice Bureau (CAB), on behalf of the authority, but the agreement ends next year.
From April, the council has said it will pay £182,000 to an independent organisation to run a face-to-face support service for the most vulnerable.
'Clear commitment'
It will put the contract out to tender and has said the CAB is welcome to bid.
However, Bath's CAB launched a petition against the change, which was signed by more than 4,000 people and triggered the full council debate on Thursday.
During the debate, a Tory motion calling on the council to produce and publish a strategy and delay any tendering process until it was complete, was approved.
Councillor Paul Crossley, leader of the council, said: "In light of the petition, the cabinet will be developing an advice and information strategy that contains a clear commitment to providing services for the most vulnerable people in society, including moving forwards with a new advice service contract specifically for this purpose.
"The new contract will reflect both the amount of money we believe appropriate and include help to those in danger of becoming homeless, people at greatest risk of being unable to live independently and elderly residents who may need advice on how to remain in their own home.
"The strategy will also be clear about what advice is available for people who are not in these categories, including from our own One Stop Shops."