Somerset bridge closed for 19 weeks is partially reopened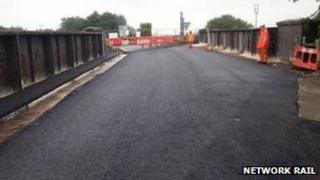 A road bridge that has been closed for 19 weeks for improvement work has been partially reopened.
Network Rail said the aim of the "unavoidable" £1.2m scheme was to significantly strengthen the Ansford overbridge at Castle Cary in Somerset.
The length of the closure attracted criticism from some businesses and MP David Heath, who claimed it was costing the local economy millions of pounds.
A single lane of the A371 was reopened on Monday, prior to full completion.
The road is expected to fully reopen on 2 December.
The repair works - which meant an 18-mile diversion for some traffic - began in July.
'Sorry for inconvenience'
Network Rail said staff had spent more than 9,000 hours replacing the bridge with a 235 sq m (2,500 sq ft) concrete deck.
The next stage of the work will be carried out at night and will involve the repair and repainting of the steel elements of the bridge, to protect it from corrosion.
Paddy Gregg, route delivery director for Network Rail Western, said: "We are very sorry for the inconvenience caused to the community owing to this essential work.
"However, the community will gain from a much stronger bridge that will be able to carry up to 40 tonnes of road traffic at the end of the project.
"This also means a safer and more reliable infrastructure to support highway and rail services for many years to come."
Last month Mr Heath, the Liberal Democrat MP for Somerton and Frome, said traders in Castle Cary had lost business because of the closure of the bridge.
Figures commissioned by South Somerset District Council suggested an increase of £1m in additional costs to the eight largest companies in the immediate vicinity of the road closure.
The council further estimated that "at least another £1m" would apply to smaller businesses in the area.