Bath Rec redevelopment plans go on display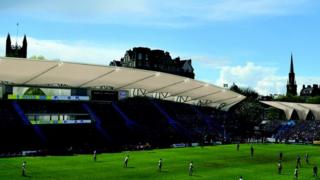 Plans for the redevelopment of Bath Rugby's Recreation Ground stadium have been unveiled.
The club appointed a team of architects and consultants to work on the proposal earlier in the year.
Improvements could see a revamp of the west stand and north terrace, a removable east stand and an extended south stand.
Chief executive Nick Blofeld said making the plans public is a "major milestone".
He said: "We have been working towards these proposals for a long time, and our aim has always been not only to provide excellent facilities for our team and fans, but for other users of the Rec too."
The plans will go on display to the public at an exhibition over the weekend.
For those unable to attend, details can be found at the Bath Rugby website.
Architect Simon Pugh-Jones said: "We believe the design expresses and celebrates the festival spirit of match days; brings new life and activity to the Recreation Ground and the riverside, and that draws from, and contributes to, the rich cultural and historic context of the city."
Earlier in the year, the Charity Commission granted the Recreation Ground Trust the power to make a decision over the granting of a new lease to the club.
Bath are seeking the lease so they can redevelop the stadium to Premiership Rugby standards.
However, planning permission for the redevelopment proposal will still need to be sought from Bath and North East Somerset Council.