Bath advice service funding cuts 'defy belief'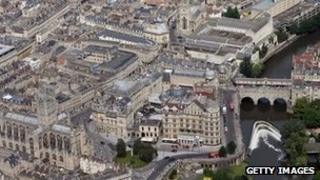 A plan to halve funding for advice services for the most vulnerable people in Bath "defies belief", opposition councillors say.
Bath and North East Somerset Council wants to reduce funding in this area from £407,000 to £182,000 from April.
The council said it estimated this to be an "appropriate" level of saving after analysis of its services.
But opposing Conservatives say they will use a council debate on Thursday to call for a halt to the cutbacks.
The Citizens Advise Bureau (CAB) is currently paid by the Liberal Democrat-led authority to manage advice services in Bath, but this contract ends next year.
From April, the council will pay £182,000 to an independent organisation to run a face-to-face support service for the most vulnerable, including people in danger of becoming homeless and those at greatest risk of being unable to live independently.
A petition against the change in service, organised by Bath's CAB, was signed by more than 4,000 people, triggering a debate at Thursday's full council meeting.
'Mishandled'
Jan Westrope, the bureau's chief executive, said the budget reduction would seriously impede the amount of people seen.
She said about 8,000 people used the CAB in Bath each year, with 50% requiring just one visit but the rest having complex problems requiring more support.
Councillor Simon Allen, the authority's head of wellbeing, said: "There is no doubting the professionalism and experience of CAB advisors.
"But the issue is about the council's shift from universal to targeted advice services for the most vulnerable, not whether the local taxpayer continues to fund a single organisation."
Councillor Vic Pritchard, Tory shadow spokesman for wellbeing, said the proposed changes to the council's advice services had been "completely mishandled".
"It defies belief that the council can cut a budget by as much as 60% before it has even decided what service it actually wants delivered," he said.
"Before the council ploughs ahead with these cutbacks, it needs to decide what it wants from its advice services and publish a proper Advice Services Strategy.
"It can then agree what level of funding is required to deliver these services."