Bath Abbey test repairs on section of collapsing floor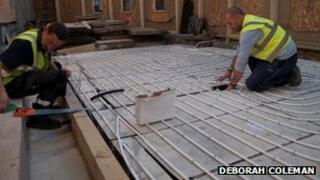 Test repairs have been made to part of Bath Abbey's floor to allow experts to monitor if the method could save the whole of it from eventual collapse.
The work was undertaken after voids beneath the floor, left by graves settling, were discovered during trial digs in 2011 and 2012.
The repairs involved lifting grave ledger stones which had been hidden underneath pews since the 1870s.
The area will be monitored for 12 months before further repairs begin.
The section - about 5% of the abbey's floor - has also been fitted with under-floor heating pipes that will be fuelled using Bath's thermal water.
'Huge great voids'
Bath Abbey, which dates back to 1499, sits on the remains of a massive Norman cathedral.
Three different churches have occupied the site and since the early 1500s, thousands of people have been buried under the building.
The abbey's Charles Curnook said the voids had made the repairs "imperative".
"We were looking for the foundation walls of the Norman cathedral on which we could lay a new floor," he said.
"But we didn't find any - what we found instead were huge great voids underground in every place.
"And when we went in underneath one of the medieval pillars, there was fresh air underneath it, at which point we stopped work."
The repairs, which have taken 22 weeks, are part of the abbey's £18m Footprint Project, which will also see energy efficient lighting installed in the building.