Royal Marines artwork created in Afghanistan, goes on show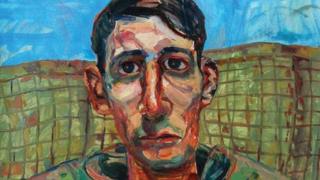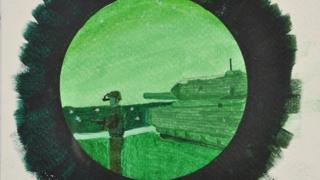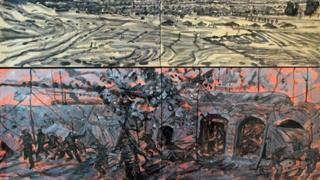 Drawings and paintings created by soldiers on active service in Afghanistan have gone on show in Somerset.
Royal Marines from 40 Commando, based at Taunton, were each given small art packs before being deployed.
Royal Marine widow Anita St John-Grey, who came up with the idea, said she hoped the kits would become standard issue for the military.
The exhibition will run at the Market House in Taunton until 23 November.
A total of 500 arts and crafts sets were given to marines of all ranks from 40 Commando in Afghanistan.
The combat art kits, designed to fit "neatly into a combat trouser pocket", included a paint box, sketch pad, pens and pencils.
'Horrors of war'
Col Alan Hooper said "filling dead time" on operations was important.
"There is a lot of time when you are on operations with time on your hands," he said.
"And one of the things that art does is to provide the other side of the coin to the horrors of war.
"In many ways it has a very therapeutic point of view - a release of stress can be very, very helpful."
Marine Tom Harrison, who created a number of landscapes and portraits being exhibited, said he was "annoyed" he had not done more.
"We went out for a few weeks and we couldn't really take much stuff so I could literally only take a few colours and paper," he said.
"I couldn't use colour and sort of invented colour with just the black and the white - but I think it worked quite well."