Somerset couple face jail for dementia victim fraud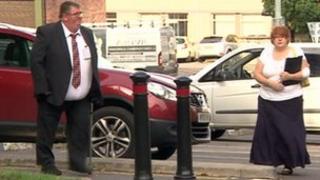 A Somerset couple who siphoned off cash from the sale of a dementia sufferer's house have been told to expect a jail sentence.
Roy Coleburn had signed over his financial affairs to Andrew and Karen Sillence, Taunton Crown Court heard.
Mr Sillence, 51, and Mrs Sillence, 46, both of the Castlebrook Inn, Compton Dundon, pleaded guilty to two charges of fraud.
The couple spent £20,000 on themselves and their daughter's wedding.
Judge Graham Hume Jones said it was a particularly mean offence, taking advantage of a friend who was in considerable distress and confused shortly after the death of his wife.
He warned the couple - who were his friends and former neighbours - that they face a custodial sentence of at least two years.
The court heard Mr Coleburn moved into a nursing home in Keinton Mandeville in 2012 after he was diagnosed with dementia.
But when the nursing fees began to mount up, his house had to be sold to cover the costs.
He transferred power of attorney over his estate to Mr and Mrs Sillence, who were publicans in financial difficulty.
It was then discovered that the couple had plundered thousands of pounds from the house sale of £90,000 to help pay for their daughter's wedding and bills for the pub they ran together.
Sentencing was adjourned for the preparation of reports by the Probation Service.