Glastonbury village green status plan criticised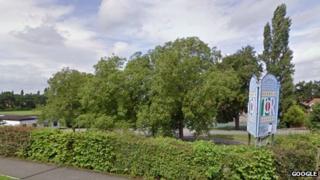 An attempt to protect a playing field in Glastonbury from being built on has been criticised by the local council.
The Friends of Tor Sports and Leisure has applied for land next to the town's sports centre to get protected village green status.
Mendip District Council has lodged an objection to the application, saying it would "pose a threat" to its use as a sports facility.
A council spokesman said there were no current plans to develop the land.
'Become derelict'
In a statement the council said if the Benedict Street playing fields were granted village green status "it would pose a threat to the council's long-term aims of enhancing Tor Leisure as a sports facility".
Conservative councillor John Parham said if the site, which is run by Avalon Leisure, was granted the status, it "could be disastrous" for the future of sports provision in the area.
"It would mean that any leisure operator at this site would be unable to invest in enhancing formal sports provision, for example, improving the tennis courts and changing rooms, or charge for use of the land," he said.
"We spoke to people who were potential investors on the site and they told us they wouldn't be interested in investing with village green status on it.
"Our main fear is that if this goes ahead then that part of the site would become derelict and become nothing more than a place where people walk their dogs, organised sport would not be able to take place there."
'Housing plans'
Paul Knight, from Friends of Tor Sports and Leisure Centre, said: "There is nothing within village green status that would preclude Mendip District Council and Avalon Leisure continuing to run the facility as a sports and recreation centre.
"Cricket games are played up and down the country on village greens and common sense would surely prevail.
"If you look at [the council's] strategic housing plan, this site is identified as a site for potential housing.
"Not withstanding the council's current commitment, saying they have no immediate plans to redevelop the site for housing, it's fair to say the community are mistrusting."
A decision on whether village green status will be granted will be taken by Somerset County Council possibly only after a public hearing, which "could take years", a council spokesman told the BBC.