Private firms vie for Avon and Somerset police's custody service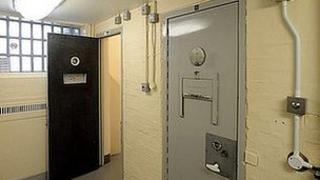 A private firm may take over the running of Avon and Somerset Police's custody suites and prisoner transport.
Five companies, including G4S and the GEO Group UK, have been invited to tender for the services by the force.
A decision on whether to keep services "in-house" or use the private sector will be made in the New Year.
Chief Constable Nick Gargan said: "We want to see what a private partner can provide us in terms of innovation, efficiency and value for money."
In Avon and Somerset, 10 custody suites are set to be replaced with three new suites in Bridgwater, Keynsham and Patchway.
As well as the new suites, the successful supplier could also take over the police's identification services, including image capture, selection and e-parade.
"The opening of our new purpose-built custody suites next year has presented us with a unique opportunity to review and maximise the service we provide," said Mr Gargan.
"The savings we make will reduce the need for cuts to frontline policing."
Tenders from suppliers are due to be submitted by mid-December with a decision expected early in the New Year.