Harry Patch digital art fronts forces charity's WWI commemorations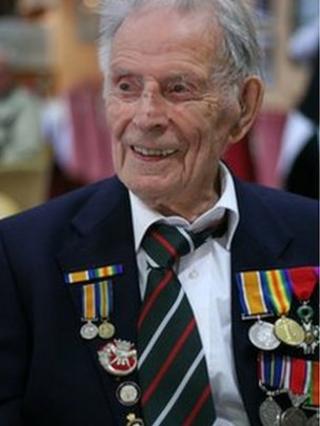 A digital artwork using the voice of the last British survivor of the World War I trenches has been created by a UK forces charity to mark its WWI commemorations.
Harry Patch lived in Wells, Somerset, and died in July 2009 aged 111.
The work, for the Not Forgotten Association (NFA), shows a portrait of Mr Patch being painted stroke-by-stroke with music by Radiohead's Thom Yorke.
It is the first in a series depicting war through the eyes of veterans.
The multimedia work was inspired by a photograph taken by award-winning photographer and former Taunton-based 40 Commando Royal Marine, Giles Price.
Mr Price said he had been helped by the charity itself after being injured in Iraq in 1991 and taking part in the project had been "of huge importance".
Harry Patch was conscripted into the Army aged 18 and fought in the Battle of Passchendaele at Ypres in 1917 in which more than 70,000 British soldiers died.
He was a machine-gunner in the trenches and served as a private.
His portrait was painted by London-based artist David Tucker in oils before being digitally deconstructed until all 2,671 brush strokes had became an individual layer.
'Extremely honoured'
The layers were then digitally animated to visually reconstruct Mr Patch's face while overlaid with original recordings of his memoirs and the musical score "Harry Patch (In memory of)".
"When I was asked to paint Harry, I felt extremely honoured," said Mr Tucker.
"I feel it is extremely important to create a legacy for Harry and those who served with him by capturing his story and passing it on to future generations."
Mr Patch's memories in the digital artwork recall the moment he was hit by a shell and lost three of his close friends.
Thom Yorke said the way the veteran talked about the war had a "profound effect" on him.
"It became the inspiration for a song that we happened to record a few weeks before his death," the lead singer of Radiohead said.
"It would be very easy for our generation to forget the true horror of war, without the likes of Harry to remind us. I hope we do not forget."
The NFA was established in 1920, just after WWI ended to support Army, Navy and RAF service personnel and their dependents.