Lasers 'deliberately target' naval helicopters in Somerset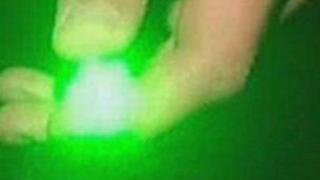 Military helicopter crews flying out of their Somerset base are being targeted "deliberately" by people shining laser pens and pointers at them.
RNAS Yeovilton said the latest incident involved a Lynx helicopter flying over the Taunton area but the base said it was happening "more frequently".
Cdr Neil Thompson said such actions not only risked the lives of aircrew but those on the ground as well.
Cdr Thompson added it was a criminal offence in the UK.
"It would be considered a hostile act by an enemy. I am sure some people don't realise just how dangerous their actions are and I want to highlight this.
"If a crew is dazzled they could end up having an incident or, God forbid, an accident, then not only their lives but those of the people on the ground are at risk."
The crews use night-flying goggles which are designed to intensify starlight and moonlight when they train for operations at night.
The light from lasers can dazzle pilots and also cause damage to their eyes.
Other incidents involved lasers being shone at Sea King Commando and Wildcat helicopter aircrew from the air base in Yeovilton - one of the busiest military airfields in the UK.
According to Avon and Somerset Police so far this year there have been 60 reported laser hits against aircraft, including the force's own helicopter.
That compares to 78 in total in 2012.
"Those who use the pens in this way need to know that they face arrest and possible prosecution if they are caught," said Chief Supt Caroline Peters.
In July 2012 a 23-year-old man was jailed for six months at North Somerset Magistrates' Court for shining a laser at the police helicopter.
Offenders can be arrested under the Air Navigation Order 2009 for the offence of using a light in such a way that it will dazzle or distract the pilot.