WWII Barracuda bomber to be rebuilt from crash wreckage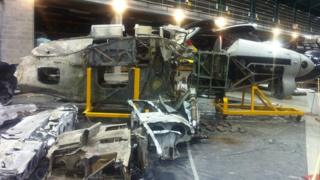 A museum's project to rebuild a WWII aeroplane from the wrecks of others collected over 40 years has begun.
Somerset's Fleet Air Arm Museum has planned to restore a Fairey Barracuda, a British carrier-borne torpedo and dive bomber, since 1971.
The plane was the first of its type used by the Royal Navy's Fleet Air Arm to be made entirely from metal.
Chief engineer Dave Morris said the task's "enormity... coupled with lack of funds" had delayed the project.
The museum in Yeovilton, with the permission of the Ministry of Defence, began gathering crash site wreckage after collecting the nose, centre section and wing parts from Barracuda DP872 in 1971.
'Test piece of tail'
Mr Morris said the aim was to make a complete Barracuda as none exist and that "some restoration work on the nose section was started in the 1990s".
"However, the enormity of the task coupled with lack of funds meant no further significant progress was made until now."
The museum has signed a contract with Kiltech Vehicle Protection Ltd in Newcastle to work with the Bluebird Project team putting together one plane from the salvaged components.
The team has been working on the rebuilding of the Bluebird, the craft used by Donald Campbell in an ill-fated world water speed record attempt in 1967.
Mr Morris said the team was "beginning to come to the end of the [Bluebird] project" and had begun rebuilding a "test piece of the tail" of the plane.
"It's showing signs of shaping back into an identifiable Barracuda tail," he said.
"On the strength of that, we've gone with them and hope over five to seven years to see much of the Barracuda restored."
Each piece of aircraft will be transferred to the Newcastle company's workshop where it will undergo a process involving softening, straightening, stretching and reforming.
The engineer said the museum had "long wanted a Barracuda in the collection [and] now it looks like it will finally be achieved".
"It's a must-have - you will be able to see one here and nowhere else in the world."