New homes bought for RNAS Yeovilton helicopter crews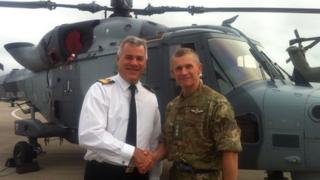 Nearly 150 new homes are being bought by the Ministry of Defence (MoD) in south Somerset for military personnel moving to RNAS Yeovilton.
It comes as 600 soldiers prepare to join the Yeovilton base from 1 Regiment Army Air Corps.
The move was due to take place in 2016 but will now start in November as some staff relocate from Germany.
The changes are part of the Army 2020 plan, a major restructure of the armed services.
The familiar Sea Kings are to be replaced by Merlin helicopters. The Lynx - which has been flown by the Royal Navy for more than 30 years - is to be be replaced by the Wildcat.
RNAS Yeovilton boss, Commodore Jock Alexander, said many of the army personnel will live in homes in existing developments - so demand for school places and the traffic will have been planned for.
He believed the new Merlin and Wildcat helicopters would not disturb people.
"There will be no added increase in the amount of flying. In fact there will be less helicopters here," Commodore Alexander said.
"The noise is about the same and we expect most of the army Wildcats to be operating more in the Salisbury Plain area rather than the Somerset Levels, so there might even be less low-flying around the area," he added.
Wildcats are built at nearby Agusta Westland in Yeovil, about seven miles from the naval base.