Musgrove Park maternity unit gets £600,000 upgrade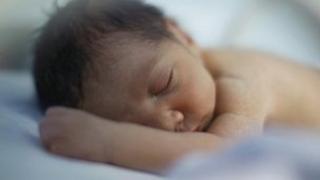 Work is due to start at Taunton's Musgrove Park hospital to upgrade maternity facilities which were originally built during World War II.
The £600,000 plan will see improved facilities for mothers-to-be with delivery rooms upgraded to offer a "relaxing and homely" environment.
Maternity facilities will continue to operate throughout with two delivery room out of action at a time.
A spokeswoman said the work would not affect the majority of mothers.
She said: "There may be an occasion when there are a lot of births taking place when we might have to consider other options.
"To ensure minimal an impact, an experienced midwife will speak to all women calling the ward who are potentially in labour and assess their condition and give them advice about admission," she added.
The project is due to be completed by next June.
More than 3,200 women and their partners use Musgrove Park's maternity department every year, it is one of three hospitals in Somerset to receive its share of government money.
In Yeovil, £200,000 will be used to update the delivery rooms in the labour suite and at Bath's Royal United Hospital (RUH), a £400,000 grant will be used to refurbish 10 delivery suites, including one which has a birthing pool.