Crash victim in Somerset road junction petition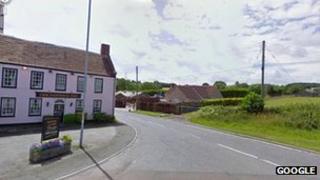 A man from Somerset is to hand a 700-strong petition to the local authority asking for a road junction where he was involved in a crash to be made safer.
Paul Carter from Burnham-on-Sea was badly injured when his van was hit by a drunk driver at the Pipers Inn junction on the A39 near Ashcott on 7 August.
He said accidents are common there and wants traffic lights installed.
But Somerset County Council said the junction has only seen a small number of accidents in the last 10 years.
Mr Carter suffered multiple injuries in the crash including a broken chest bone and a fractured vertebrae.
People who signed the petition agreed the junction was a "renowned blackspot", but the council only records serious accidents and overlooks the many shunts which occur, he said.
"I do not want it to take someone being killed at the junction before they do something about it," he said.
He is urging the council to install a traffic light system with speed detection cameras to "slow people down and make the junction a much safer place".
Mr Carter plans to present the petition to the authority at the next full council meeting in November.
A Somerset County Council spokesman said: "We would like to pass on our sympathies to the casualties in this particular accident but we cannot make any changes to our roads that will guard against instances of drink-driving.
"We have no plans for any further changes to this junction. During the past 10 years there have been only 10 slight injury accidents there.
"Signs, lines and speed limits were changed some years ago. Only two of those accidents have happened in the last five years since the road safety changes were completed."