Weston Tropicana: Council explores leasing option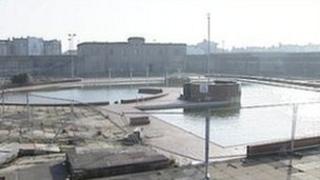 A derelict swimming pool in Weston-super-Mare could be leased to developers if they can prove they have a "fully-funded viable proposal".
Trop (WsM), a group of local businesses, campaigned to redevelop the site and reinstate a pool.
In December 2011 the council decided the site should be bulldozed and restored to being part of the beach.
These plans were overruled and the sea front Tropicana site, which was built in the 1930s, has remained derelict.
Over the years a number of schemes have been discussed but none have come to fruition.
If plans put forward are agreed by the council, Trop (WsM) will be allowed to pursue its funding applications for the site.
The local authority previously said there was "not enough evidence to prove the viability of any revamp scheme" but after the demolition was blocked by ministers, the council, which owns the site, was told to review its options.