East Huntspill wind farm plans to be resubmitted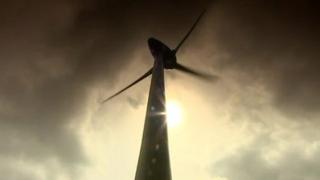 Plans for a wind farm on the Somerset Levels are to be resubmitted to Sedgemoor District Council.
EDF Energy's original plans for five turbines near East Huntspill were turned down in April 2012.
Hundreds of people fought a campaign against the original application on the grounds the turbines would be too high and too close to homes.
An EDF spokesman said a new assessment into the effect it would have on the landscape had been completed.
'Negative attitude'
Dennis Garry from EDF Energy Renewables said: "We continue to believe the Withy End site is an excellent location for the size of wind farm proposed.
"The fact that the council's own planning officer recommended our original application for approval demonstrates the project has merit.
"If approved, the Withy End wind farm would contribute to the generation of low carbon electricity in Somerset, will help meet government renewable energy targets and the country's future energy supply needs."
Roger Lucken from Huntspill Wind Farm Action Group said: "When the application was rejected by Sedgemoor District Council 18 months ago, the main reason for rejection was impact on the landscape, and clearly there's absolutely nothing that EDF or anybody else can do about that impact.
"We certainly are not going to back down. We can anticipate that there will be an overwhelmingly negative attitude towards this application from the local community as there was previously."
EDF Energy said it had also carried out additional ecological and ornithological surveys as part of the new application for the turbines, which will be 126m (410ft) tall.
Public consultations into the new plans will be held in Woolavington and East Huntspill on Wednesday and Thursday.