Hinkley nuclear power station deal divides opinion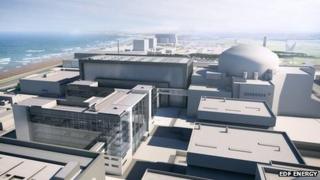 An announcement confirming the UK's first new nuclear power station for a generation will be built in Somerset has been welcomed by local councils.
Hinkley Point C, costing about £16bn, will be built by a group of investors including France's EDF Energy and two Chinese companies.
Somerset County Council said the news was a "massive boost" for the county's "entire economy".
But pressure group Stop Hinkley described the deal as "reckless".
'Lining pockets'
Stop Hinkley was set up in the mid 1980s to fight a government plan for a pressurised water reactor known as Hinkley C.
It is dedicated to the decommissioning of all the nuclear reactors on the Bristol Channel and the Severn Estuary.
Its patrons include Lord Ashdown, author Raymond Briggs, Monty Python actor Terry Jones, Green Party MP Caroline Lucas and Labour MP Michael Meacher.
Theo Simon of the Stop Hinkley group said: "This whole project was sold to us on the basis of local jobs, affordable electricity, British energy security and the need to bridge the so-called "energy gap" in 2020 with low-carbon generation.
"Now the Hinkley C project will fail on every count - except to line the pockets of foreign investors at our expense in what some people are calling The Great Chinese Takeaway."
But councillor John Osman, Somerset County Council's leader said the deal "is important for businesses and our local economy and it's important for our communities".
"This puts Somerset firmly in the national spotlight and it's now tremendously important we all work together to get the best benefits we can for them," he said.
Sedgemoor District Council described the new power station as a "nationally-important infrastructure project where the impacts are felt locally".
A spokesman said: "We will continue to work with EDF to make sure that local people justly benefit from hosting the power station on their doorstep."
In West Somerset, council leader Tim Taylor said: "From our perspective we already have a series of programmes in place providing all sorts of opportunities for local businesses to benefit from being in the supply chain and local people to be trained to become part of a skilled workforce.
"We will continue to work hard to ensure that our communities and businesses are well placed to take advantages of all the opportunities which the project will undoubtedly bring.
"Our council will use the resources provided to us from the development to create a sustainable legacy for our community."