Somerset coastal path route unveiled by Natural England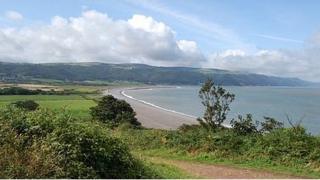 Plans to create a walking route along the Somerset coast as part of the England Coastal Path project have been unveiled by Natural England.
The 56-mile (90km) section of path will run from Brean Down to Minehead and will cost an estimated £72,000.
Natural England and Somerset County Council have spent the last two years meeting landowners to discuss where the route should go.
An eight-week public consultation is due to end on 12 December.
Final proposals will then be submitted to the government.
The route, according to Natural England, will not only offer "spectacular sea views over the Bristol Channel" but give the public access to the area's beaches for the first time.
Along with recommendations for new sections of paths, the proposals also include bringing sections of existing coastal footpath closer to the sea.
'First continuous route'
Natural England area manager Mark Jones said: "In essence, these proposals present an opportunity to improve and enhance access to a wonderful stretch of Somerset's coastline."
Councillor Harvey Siggs said if it went ahead it would be the first time a "continuous walking route" would be available along the whole county's coastline.
"It will link with existing promoted trails such as the River Parrett Trail and West Somerset Coast Path as well as new developments at Steart," he said.
"We expect the route to bring additional trade to local businesses throughout the year and along the whole route."