Phoebe Willis death: Coroner's 'accident and neglect' verdict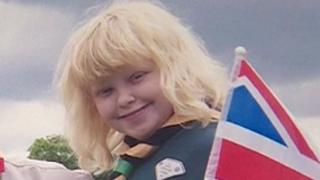 A girl with a rare genetic condition died after "an accident contributed to by neglect" because of problems with her feeding tube, an inquest heard.
Phoebe Willis, 10, from Locking, had the tube inserted by a nurse at Weston General Hospital in August 2012.
She went there after her parents could not fit it at home. They claimed she died after "too much force" was used.
The Avon coroner recorded a verdict of accidental death, but said there was a "gross failure" in Phoebe's treatment.
Coroner Maria Voisin said there had been a number of failures including a lack of communication between a doctor and specialist nurse Carrie-Ann Nash, and that they had failed to establish who was in charge.
'Lack of communication'
Phoebe, who had cystinosis, had been fed by a tube since her diagnosis as a baby.
This was done at home by her parents, Julian and Heather Willis, who also changed the feeding tube every three months.
On 24 August last year, they experienced difficulty changing it and were referred to Weston General, where Ms Nash fitted the tube.
Phoebe was then sent home but woke up the next morning feeling unwell. Two days later, she died from peritonitis at Bristol Children's Hospital.
She said both had also "failed to exercise their own clinical judgement".
Ms Voisin said there was a "strong possibility" that if Phoebe had been referred to the Bristol Children's Hospital earlier she "would still be alive today".
Phoebe's mother Heather Willis said she was "very disappointed" at the verdict.
Mrs Willis said: "You have to respect that the coroner has looked at the law, she was unable to find a verdict of manslaughter, but she's given a verdict of just one below manslaughter.
"This isn't a criminal trial, this isn't for her to apportion blame and she's done the best that she can.
'Dreadful and upsetting'
"People are called experts and they're not experts. One has to question who you can rely on in the future.
"We're not going to be put in that situation again but other people are going to be and they need to do everything to protect themselves and their children."
Mr and Mrs Willis said they were considering on whether further action should be taken.
A spokesman for Weston Area Health Trust said it was "a dreadful and upsetting case".
He said: "Although the conclusion was that this tragic death was an accident we are very aware of the coroner's comments that some of the care provided was simply not good enough.
"We will study the coroner's verdict in detail, talk to our partners, commissioners and others and ensure that we make whatever changes are necessary."
Cystinosis is a rare genetic condition that causes damage to the kidneys, eyes and other major organs. It affects about 150 people in the UK.
It occurs when an amino acid called cystine is not carried out of the body and then accumulates in cells.