Bath £5m flood work to enable riverside development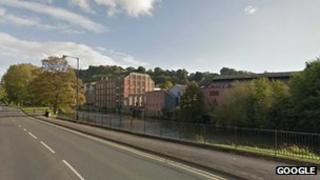 Around £5m is to be spent on flood prevention measures to allow the development of land in Bath city centre, the local council has said.
The work is part of a Bath and North East Somerset Council project, which will see about 2,500 homes and 650,000 sq ft (60,000 sq m) of workspace built.
It will see the River Avon widened, the tow-path level altered at Churchill Bridge and Green Park Road rerouted.
Engineers are due to begin work on the site next summer.
The council's member for sustainable communities, Ben Stevens, said the work was essential.
"The equation is simple - no flood mitigation equals zero new homes, jobs and opportunities in the emerging Enterprise Area," he said.
Chairman of the Federation of Bath Residents' Associations, Henry Brown, said the area was "one of the least attractive parts of Bath and it's crying out for regeneration".
"We welcome this project because of the opportunity it presents to create an interesting new quarter, to reduce the impact of Green Park Road, and to reconnect the city centre to the riverside."
The work will also see poplar trees planted to screen Green Park Road from the opposite side of the river replaced by mature trees.
The council said this would allow developers to create river promenades, a cycle route, cafes, public art and a space for outdoor performances and events.