Five Sedgemoor Parks to get new play equipment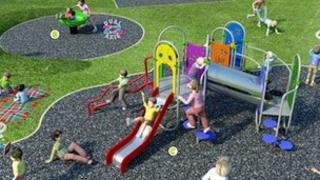 A new play area is being created in Mansfield Park in Bridgwater for the first time since the 1970s.
The park is one of five in Sedgemoor to be revamped under an investment project costing £113,000.
Mansfield Park has had £30,000 spent on it, including £10,000 from the Hamp Community Association. The second park at Crowpill will receive £25,500.
The other parks are Red House Road in East Brent, Linham Road in Bridgwater and Holford Road in Durleigh.
Mansfield Park - the first park to be revamped - has new swings, a roundabout, a walkie-talkie zone and a large multi-play unit including a slide, tunnel and stepping stone entrance.
The next parks tabled for improvement are Talbot Close, Stilings Close and Coleridge Gardens in Highbridge.