Gull rubbish bag fine threat to Bath residents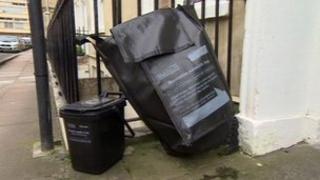 Residents of Bath who do not use gull-resistant rubbish bags could be fined.
Officials from Bath and North East Somerset Council have told households on New King Street they must use the reusable bags.
The move is the latest measure to try to control the number of gulls. The bags prevent them "attacking rubbish" and making a mess.
Recently, a gel which dupes the gulls into believing buildings are on fire, was used to discourage the birds.
The gel emits an odour the gulls dislike and an ultraviolet light that is perceived as a fire.
Over the past year, more than £6,000 has been spent by the authority on the urban gull problem.
There are estimated to be more than 1,100 pairs in the area.
However, a recent report found the number of gulls had declined in the city for the third year running.
The gull-resistant bags were given out free to residents, but the council said in a letter to homes that "not all of you are using them".