Cheddar Gorge cable car would 'destroy natural beauty'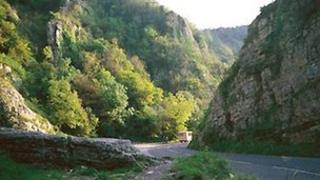 Groups opposing plans for a cable car over Cheddar Gorge have said it would "destroy" the area's natural beauty.
Campaigners have held a meeting to discuss other ideas for attracting visitors and boosting local businesses.
Longleat Estates, which owns part of the gorge, has said a cable car from the bottom to the top would improve access and tourism.
Vanessa Winchester from Keep Cheddar Gorgeous said the views from the top of the gorge were "iconic."
"It's just unspoiled. It's a wild and beautiful area. It's food for the soul," she added.
"We just think that the structure of a cable car, a big metal cable car, would destroy that view and the peace and tranquillity and the natural beauty of the area."
'Economic regeneration'
The meeting was organised by the Somerset Campaign to Protect Rural England - other groups attending included the Mendip Hills AONB unit and the National Trust.
Ms Winchester acknowledged that the cable car may attract more visitors in the short-term, but it would not encourage people back time and again.
A cable car at the gorge was first suggested more than 20 years ago.
In a statement, Longleat said the decline in visitor numbers was "unsustainable".
"Visitor numbers to the caves have declined from nearly 400,000 per year to a little over 150,000 in 2012," the statement continued.
"Under new management it was decided that radical action was required and that a cable car, which had been under consideration for nearly 30 years, would provide improved access, new opportunities for education, improved conservation, and a suitable tourist 'anchor' for the economic regeneration of Cheddar village."
Longleat added that it had carried out "extensive surveys" through the past year to assess the possible impacts of the proposals, including on wildlife, and are "confident" that impacts have been either avoided or managed effectively.