Cheddar Gorge cavers praised for flood relief help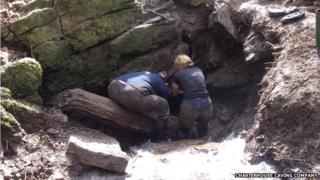 A group of cavers have been praised for their help in protecting Cheddar Gorge against future severe flooding.
The Somerset attraction was affected by heavy rain, snow and ice at the end of last year which led to a lengthy road closure through the limestone gorge.
Volunteer cavers have now removed large amounts of debris from a blocked sinkhole upstream which had contributed to the problem.
The work was part of a six-month flood relief project which has now ended.
Additional work at the Longwood Valley Sink included construction of a permanent dam and the installation of a plastic pipe and grill at the sink's entrance.
'Eaten alive'
Charterhouse Caving Company (CCC) worked alongside Somerset Wildlife Trust and Somerset County Council highways department on the project.
Somerset County Council cabinet member David Hall said: "Everybody played their part by offering resources and expertise and the volunteers deserve a huge amount of credit for driving this forward with such commitment and enthusiasm."
Linda Wilson, conservation officer for CCC, said it was a "massive" task.
"For most of the project we were either working in very cold water or covered in mud, being eaten alive by insects, but everybody did their bit on time and we got the job done," she said.