Badger cull: 'Not worked as hoped' says MP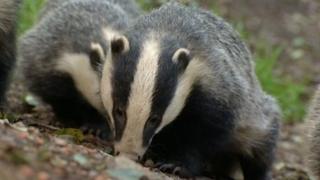 A Conservative MP who sits on a government farming committee has said the trial cull of badgers in Somerset has "not worked as hoped".
Neil Parish, who farms in Somerset and supports the cull, said "there is quite a problem with the numbers" which "is not terribly good news".
A former Defra manager also backed claims that too few had been killed.
The government, which wanted 2,100 badgers shot to halt the spread of TB, said it would release figures soon.
Mr Parish, the MP for Tiverton and Honiton who sits on the Defra select committee, said initial badger population estimates could have been too high and said attracting badgers out to be shot had proved more difficult than anticipated.
Humane killing
His comments follow those of a former government official who said fewer than half the target number of badgers had been killed in Somerset during the trial cull.
Paul Caruana, who ran official badger culls until 2006, said he had been told that as few as 750 badgers had been killed in the county.
Marksmen were tasked with shooting 5,000 badgers in Somerset and west Gloucestershire in a bid to halt the spread of bovine TB.
The Gloucestershire trial is thought to have about a week left to run.
The government licensed the shooting to test whether culling can be carried out in a safe, humane and effective way.
Mr Caruana added that the trial was not based purely on numbers but also how they could kill badgers.
'Gauge success'
"This was more about proving their processes and procedures to make sure humaneness was top priority," he said.
"But to say successful as far as reducing TB goes - you might see the odd isolated pocket but it's far too early to gauge any success as far as a reduction in TB goes."
The Department for Environment, Food and Rural Affairs (Defra) has constantly refused to reveal numbers of badgers killed during the trial while the National Farmers' Union has not commented on Mr Caruana's claims.
Campaigners have said the methodology behind the cull "isn't sound".