Somerset wildlife grant to improve River Tone habitats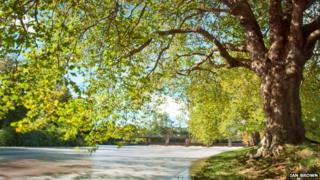 Water vole and rare bats along the River Tone in Somerset will have their habitat improved with a £494,000 grant.
Somerset Wildlife Trust has secured the Heritage Lottery Fund cash to carry out work to the green spaces and waterways near the river in the Taunton area.
It is hoped that, as a result, rare wildlife in the area such as brown long-eared and lesser horseshoe bats will be given better protection.
Such wildlife will also be the subject of surveys and a new dedicated website.
'Survive and thrive'
"Amongst the traffic, houses and businesses of Taunton a surprising array of rare and threatened wildlife species survive and thrive," said Janet Keeble from Somerset Wildlife Trust.
"Taunton has some great spaces for nature and we look forward to working closely with the Taunton Deane Borough Council and local people to protect these spaces for current and future residents to enjoy."
Councillor Mark Edwards, deputy leader of Taunton Deane Borough Council, added that he hoped this would put the river back as the focus for the county town.
"We want the community to turn towards the river not turn its back and this project certainly helps make that a reality," he said.
The Routes to the River Tone project will be led by a partnership between Somerset Wildlife Trust, Taunton Deane Borough Council, the Environment Agency, Somerset County Council and the Canal and River Trust.