Brewhouse Theatre's future may be secured after lease acquired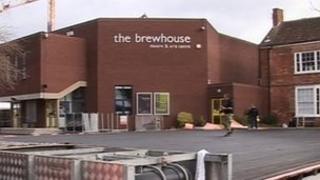 The future of a bankrupt theatre in Somerset could be secured after the council confirmed it had acquired the remaining lease.
Taunton Deane Borough Council said it was "not the final stage" in reviving the Brewhouse Theatre, but it was "progress in bringing it back to life".
It shut in February when its financial position was said to be "untenable".
Taunton Theatre Association (TTA) has bid to run the theatre. The council will make a decision in December.
TTA is a not-for-profit group which was set up after the closure of the Brewhouse earlier in the year.
It is working with the council and independent consultants to "ensure its proposals to take on the Brewhouse are financially sound" and that it could "provide the best possible cultural offer for Taunton".
Councillor Norman Cavill said: "While the council has no intention of running the theatre, we are committed to ensuring that a new operator is able to build a robust and sustainable cultural asset for Taunton Deane.
"We want to ensure there is a viable future for the theatre and reassure our councillors and community that Taunton Deane's principal cultural asset is in safe hands."
It set a deadline of 23 September for local groups to bid to run the venue and TTA was the only group to come forward.