New crematorium will 'reduce pressure' in Somerset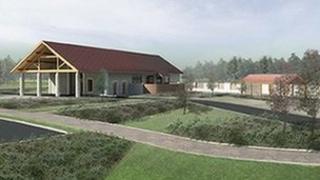 A new crematorium designed to "reduce pressure" on nearby towns has opened in Somerset.
Sedgemoor Cemetery lies between Highbridge and Bridgwater, on the A38 at Stretcholt and will cater to Bridgwater, Highbridge and Burnham.
The building and grounds have been designed to blend into the countryside with the use of local wood and stone.
Burnham Funeral Services' Richard Marsh said it is "long overdue" and will make a difference to bereaved families.
He said: "We have supported the scheme since the beginning as we know what a difference it will make in the area."
Richard Evans, of developers Westerleigh said there was an "obvious need" for Sedgemoor to have a crematorium of its own "to reduce the pressure on Taunton and Weston and to provide something more convenient for the towns of Bridgwater, Highbridge and Burnham and the surrounding areas".
Nigel Gillard of Bridgwater Funeral Services added: "It is a much-needed facility and will end the difficulties that many families face when travelling out of our region to say farewell to loved ones."