Somerset badger cull marksman 'gun threat' investigated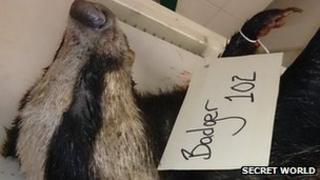 Claims that a badger cull marksman was threatened, possibly with a gun, by protestors over a shot badger carcass are being investigated by police.
Several people are alleged to have approached a contractor in Somerset at 02:15 BST on 14 September, forcing him to retreat to his vehicle, police said.
The investigation includes a claim that "a long item" was also pointed at the victim, Avon and Somerset Police added.
Protesters the said an incident with a gun "certainly did not happen".
A Somerset wildlife charity Secret World said on 15 September that a volunteer night patrol had picked up a dead badger.
It claimed the young female, discovered in the Somerset cull zone, showed signs it had not died "instantaneously".
'Completely crackers'
An Avon and Somerset Police spokesperson said the contractor was working near Wheddon Cross when he was approached by the group.
Jay Tiernan, spokesperson for the Stop the Cull campaign group, responded to the claim saying: "We are all stopped three, four, five, six time a night in our vehicles.
"You'd have to be completely crackers to be driving round with a gun. The gun incident certainly didn't happen.
"If you're a shooter and you're by yourself and suddenly six masked people turn up you might feel a bit threatened, you might be a bit worried and you might run off."
The government's pilot cull in Somerset is due to end this Sunday but to date there has been little official information available on whether it has been successful or not.
The trials in Somerset and Gloucestershire aim to kill some 5,000 badgers in six weeks to test whether culling can be carried out in a safe, humane and effective way.
Opponents have held overnight patrols to disrupt the cull which they argue is inhumane and ineffective.
But supporters say the cull is necessary to tackle bovine TB, spread by infected badgers, and could make a meaningful contribution to controlling the disease.