Bridgwater Tesco wins earlier deliveries rights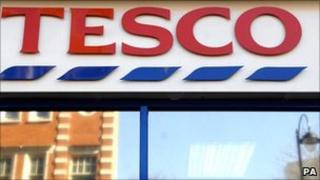 A new Tesco store in Somerset has won the right to accept earlier deliveries, despite local concerns over noise.
The supermarket is building a new store in the centre of Bridgwater, on the site of the former Sedgemoor Splash swimming pool.
Sedgemoor District Council has given Tesco permission to receive goods from 06:00 instead of 07:00, but has imposed greater controls on noise levels.
Tesco said it was "pleased with the amendments".
A spokesman said it would allow Tesco to "provide the best possible service to local customers".
'Strict restrictions'
The Conservative-led council made the decision on Tuesday.
Labour district councillor Ian Tucker said: "The problem is with the residents, it's six o'clock in the morning with lorries coming and going and all the associated noise.
"They [Sedgemoor District Council] did impose strict restrictions on it originally and Tesco accepted them in the first application. I see no reason why they should be changed by Tesco."
But Sedgemoor District Council said it had imposed greater controls on noise and movements within the loading areas, which means crates cannot be moved until after 07:00.
Corporate director Doug Bamsey said: "There are a series of noise limits that are put on in terms of how the store can operate.
"Equally there's potential that if all these measures aren't entirely successful then there's additional noise mitigation which can be introduced at a later stage."