Catherine Wells-Burr murder: Parents bid to help others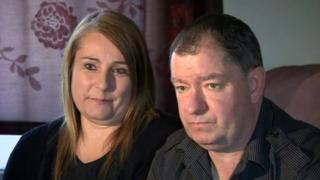 The parents of a 23-year-old woman who was murdered for a six-figure life insurance policy are raising money to help families of other murder victims.
Rafal Nowak, 31, smothered girlfriend Catherine Wells-Burr as she slept at their home in Chard, Somerset, in September 2012.
At Bristol Crown Court in June, he was ordered to spend at least 32 years behind bars.
Nowak's accomplices, ex-girlfriend Anna Lagwinowicz, 32, and her uncle Tadevsz Dmytryszyn, 38, got the same sentence.
They disposed of Miss Wells-Burr's body in her car at a countryside beauty spot, at Ashill, before setting it on fire.
Since the trial, Miss Wells-Burr's parents, Jayne and Phil, have raised more than £8,000 through the sale of wristbands in her favourite colour, dark green.
Mrs Wells-Burr said throughout the nine-week trial they had stayed in Bristol at a cost of "thousands of pounds" and that she wanted to help others with the costs associated with trials.
"It's horrific attending court and most families want to do that for a loved one they've lost," she said.
'Heart and soul gone'
Miss Wells-Burr's death has also inspired her mother to start a course at university to be a trauma counsellor specialising in homicide.
"I want to help others," she said. "I can empathise with what the families are going through.
"I have a burning desire to help."
The manner of Miss Wells-Burr's killing, and the betrayal of a man who was welcomed into the family, is something her parents still cannot come to terms with.
"I'm a shell of myself really, my personality and character has gone," Mrs Wells-Burr said.
"I wake up and think of Catherine and I go to bed thinking about Catherine every day without fail.
"It never leaves you."
Her husband agreed. "My heart and soul are gone - they've been ripped out of me," he said.
"You wake up everyday, what's to look forward to?"
The trial heard how Lagwinowicz and Dmytryszyn took Miss Wells-Burr's body and drove it in her red Ford Focus to Ashill.
They placed the body in the driver's seat and set fire to the car 20 minutes after Nowak had clocked into work at Numatic International, in the hope this would provide him with an alibi.
The jury heard how Nowak and Lagwinowicz had met to plot the murder on up to 87 occasions and exchanged hundreds of phone calls using prepaid sim cards.
They also spent months leaving a false trail for detectives, creating fake profiles for Miss Wells-Burr on adult websites and sending texts to her phone from a supposed mystery lover.