Lost space capsule sent from Somerset school found near Worksop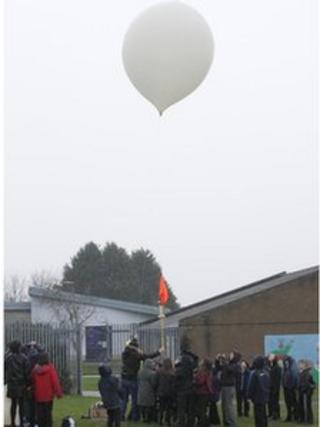 A balloon sent into space from Somerset as part of a school experiment - and thought to have been lost - has been found near Worksop.
The MARSballoon project contained 70 everyday objects and was one of two balloons launched from Frome in March.
One balloon was found in Warwickshire but because the battery ran out on the GPS beacon on the second its position could no longer be tracked.
It has been found by a farm worker in a field in East Markham, Nottinghamshire.
The remains of the experiment - which had been run over by a tractor - will now be returned to Oakfield Academy in Frome.
Despite being extensively damaged, footage from the onboard camera was intact.
Ice cubes for Mars
The balloon had been missing, presumed lost, for six months.
Its payload contained items such as sweets, matches and ice cubes and it was sent about 18 miles (30km) into space - to test how those items would cope with being transported to Mars.
The project organisers said the capsules and their contents would experience "conditions which are very close to that of the surface of Mars".
The MARSballoon project, which was organised by Bristol-based aerospace company Systems Engineering and Assessment (SEA), involved six local schools and two universities, and was aimed at helping the students take an interest in a career in the UK space industry.
The students, aged from seven to 24, were asked to develop an experiment to test anything humans may "want to take or do on Mars in the future".
All the items had to fit inside small plastic containers which were then mounted on to a special tray beneath the balloons.
The capsules were expected to travel more than 60 miles (100km) before returning to earth after a flight of about three hours.
The first balloon was found the same day in Fenny Compton, Warwickshire.
Once all the items are found, the results will be recorded on the website of the UK Space Agency, which contributed funding towards the project.