Bridge work blamed for HGV 'rat run' through Bruton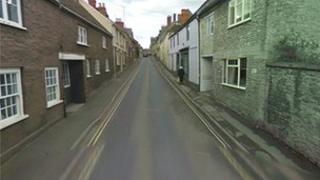 Repair work on a bridge has led to an increase in heavy goods traffic through a Somerset town, residents claim.
Network Rail closed the A371 for five months in July in order to repair Ansford Bridge, near Castle Cary.
But people in nearby Bruton claim HGV drivers are ignoring signs and using the town to avoid an 18-mile diversion.
Pc Sara Stephenson said: "They try and force their way through and ultimately they will damage not only curbs but buildings as well."
The bridge, about five miles (8km) up the road from Bruton, is due to be closed until mid-November for maintenance.
'Not acceptable'
Anna Pittman, who lives in the town, said additional numbers of HGVs were cutting through and that action needed to be "taken against the companies".
"Some of the roads, where they are coming in, are extremely narrow," she said.
"You need to send out the signal it's not acceptable - then it may stop."
A local lorry watch scheme is already in place, with residents recording and reporting number plates of offenders.
And Pc Stevenson, of Avon and Somerset Constabulary, said any drivers ignoring the town's 7.5-tonne weight limit signs, will face being fined.
"There isn't room for these HGVs," she said.
"And I won't think twice about slapping a ticket on those who are offending."