Forgotten 1977 time capsule from Bath school is opened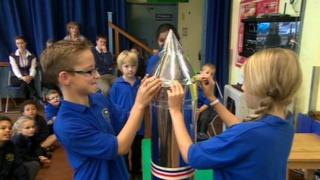 A group of former pupils from Bath have returned to their old school to open a 1970s time capsule.
The former students of the-then Twerton Church of England Junior School, now St Michael's C of E, filled the cylinder to mark the Queen's Silver Jubilee.
It was to be buried and opened for the Queen's Diamond Jubilee but ended up in the back of a school store room.
It was forgotten until a recent school reunion when pupils remembered filling it with a snapshot of life in 1977.
Elaine Cox said her contribution was a piece of her school work.
"It was about my favourite TV programme at the time.
"Apparently I loved Starsky and Hutch.
'Loyal greetings'
"You feel quite emotional about it and I did have to fight the tears back," she said.
The idea for the rocket-shaped capsule came from Pauline Preddy, one of the school's former teachers, who wrote to the Queen to tell her about their plans.
"We decided we'd send loyal greetings to the Queen because we felt it would be a nice thing to send from the city of Bath.
"At a staff meeting we decided on the wording and I took responsibility to write it," Ms Preddy said.
A letter received back from a lady-in-waiting was one of the other items contained in the capsule.
But many of the children were interested in the more mundane items inside.
Among the other items was a Mars bar, priced at 9p, a selection of other sweets and a number of car brochures - with the most expensive at £2,000.