Taunton murder victim's brother creates anti-violence film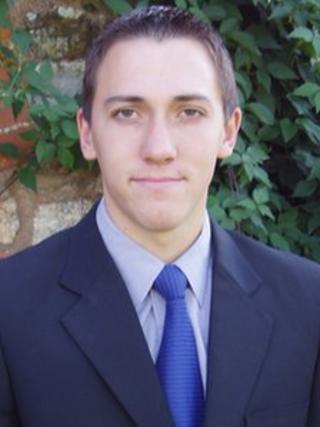 The brother of a teenager who was murdered in a street attack has created an interactive 3D anti-violence film that will be shown at schools.
Adam Fouracre set up the charity Stand Against Violence following the death of 17-year-old Lloyd in Somerset in 2005.
The film is its latest project and was launched in Taunton.
The concept allows students to become totally immersed in a live situation where they have to make decisions and experience the consequences.
Mr Fouracre, whose brother was attacked by a group of drunken youths, said the film lets students, using 3D glasses and a hand console unit, choose the outcome of a night out, with the aim of teaching young people how to avoid possibly dangerous situations.
A series of interactive choices results in a range of outcomes varying from death, brain damage and ending up in court, to someone simply regretting a drunken night out.
'Risky situation'
He said: "There continues to be numerous incidents of youth violence across the UK and research has shown that there is a strong link between youth violence and cases of anti-social behaviour that plague communities throughout the region.
"Through SAV (Stand Against Violence) we are working to reduce these numbers by showing students how easy it can be to end up in a risky situation and understand the consequences not just for themselves, but their family, friends and communities."
Mr Fouracre said the film, which has Home Office backing, would initially be shown at schools in the South West with the aim of rolling it out across the country.
Avon and Somerset Police Chief Constable Nick Gargan, who was at the launch, said: "In 25 years of policing, far too many times I've seen really nice, decent, respectable young people suddenly find themselves in all sorts of trouble.
"I think this resource is very helpful to raise awareness of that risk."
Dr Clare McVeigh, senior lecturer in biology at the University of South Wales, was also at the launch.
She said: "There's been a lot of research to show that one of the best ways to prevent violence is to change societal norms.
"It's been shown that to have an interactive element in the story-telling... is the most effective way [of doing this]."