Avon and Somerset Police stop and search figures 'double'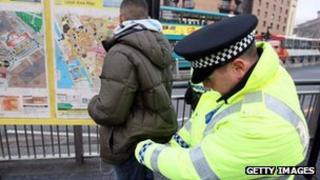 The number of people stopped and searched by Avon and Somerset Constabulary has almost doubled in the last five years, the BBC has learned.
The force questioned 12,000 people in 2007 but in 2013 the figure was 23,000.
Chief Superintendent Jon Stratford credited better incident recording and sharper intelligence.
The FOI data coincides with the end of a national six-week consultation into whether "stop and search" powers are being used fairly and appropriately.
'Under recording'
"I think, without a doubt, we have got better at recording when we do stop search someone," Mr Stratford said.
"Back in 2008 we had a paper system, now it's all computerised, and we've spent some time raising awareness amongst our staff of the need to make sure that this very intrusive power is properly recorded."
Mr Stratford admitted there was probably an "element of under-recording on our part" back in 2008 but that had since been improved.
"Also, I think we are probably stop searching more people. We've sharpened our intelligence," he added.
"We have a much better handle on where the crime is being committed and who is committing it. We have a very offender-led approach.
"By deploying the officers into these areas, we are able to stop [and] search people and catch criminals in the act."
A million stops
He added that all officers needed to have "reasonable grounds to suspect" someone of involvement in criminal activity before they could be stopped and searched.
It was that kind of approach, he added, that had led to a drop in crime of a third across the force area since 2008.
The Freedom of Information (FOI) request figures from Avon and Somerset Police found that 90% of those stopped were male - of those, 10% were black and 90% white.
In 2007, nearly 4,000 white people and 366 black people were stopped in the 19 to 24-year-old age bracket.
The pattern is the same when looking at the under 18s and over 75s in that year.
In 2012, 7,500 white people were questioned in the 19 to 24-year-old age group, compared to 719 black people.
In July, Home Secretary Theresa May said it was "time to get stop and search right.''
About a million stops take place in each year, but only 9% lead to an arrest.
Source: Avon and Somerset Constabulary