'Erratic' chiming clock appeal at Holy Trinity Church in Coleford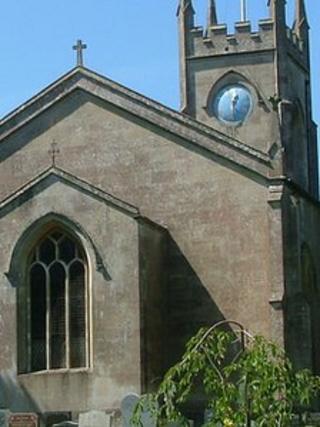 A Somerset village, fed up with its church clock chiming the wrong time, is trying to raise £10,000 to fix it.
The clock on the tower of Holy Trinity Church in Coleford has been ringing the wrong number of chimes at the wrong hour for more than five years.
The Reverend Clarissa Cridland said: "It's erratic - you just can't tell what it's going to chime or when."
An appeal by residents has raised nearly £8,500 towards fixing the clock and making it "automatic winding".
Since the church was built in 1831, someone has had to climb the series of vertical wooden ladders inside the church tower to wind and set the clock.
But despite a local resident of "retirement age" making a weekly ascent, the clock continues to record the wrong time albeit chiming "around the hour".
"We've tried to repair it but it hasn't worked so it needs a complete professional repair done," added The Rev Cridland, the church's associate priest.
"We thought initially we would have it completely switched off," she added.
"But people love to hear and listen to the clock even though there's not a sense of hearing it in order to know the time these days."