Weston General Hospital contract 'conflict of interest' row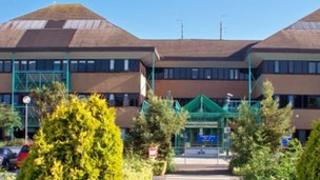 The bidding process for the contract to run and manage Weston General Hospital could face a potential conflict of interest, it has been claimed.
The BBC has learned two board members who will help decide who runs it have also worked as consultants for private companies that are bidding to run it.
Campaigners say the pair should stand down from their positions.
But health secretary Jeremy Hunt said there was "total transparency" because they had declared their interests.
BBC West health correspondent Matthew Hill has learned two members of the Securing the Future Project Board, which will lead the way in deciding who is awarded the contract, have worked for two of the private companies concerned.
'Declaration of interests'
John Underwood, who runs a PR company, has worked previously as a consultant for Serco and Kathy Headdon is a consultant for Capita Symonds.
Both have declared their interest but have declined to comment further.
Instead, they referred the BBC to the NHS Development Authority, which is also involved in the decision making process.
A statement from the Authority said: "Every member of the Securing the Future Project Board has been asked to complete a declaration of interests and a register of interests for the project.
"In the event that we approve the outline business case and a decision is taken to proceed to procurement the register of interests will be published."
Under new government rules the hospital, which has been running at an annual loss of £5m for several years, will have to be taken over by, or merged with, an adjoining trust or have its management outsourced to a private company.
'Best standards'
Eleven organisations, including four private companies, have expressed an interest in running the hospital in Weston-super-Mare.
Mr Hunt said: "We make sure that there are no conflicts of interest.
"One of the ways we do that is to make sure there is total transparency about all the interests that people have.
"The decision, that in the end will be taken by the NHS, will be on the basis of what has the best chance of making sure that we have the best standards of care."
But Steve Timmins, from the campaign group Protect our NHS, said: "This kind of thing should not be happening, [Ms Headdon] should stand down."
He said he wanted to see "a lack of any form of bias where people could be accused of having vested interests, and it doesn't look that way to us at the moment".
It could take up to three years to eventually decide which partner takes over.
New government rules say all NHS trusts must become foundation trusts by April 2014, thereby proving they can run their services without going into debt and function independently of the Department of Health.